We offer one-day tour packages from Tirupati to Golden temple Vellore Taxi Fare, which also covers other places like Srinivasa Managapuram and Kanipakam. Our knowledgeable drivers are always there to guide you about different places and their importance. You can even customize your packages for more days to visit many other places in and around Tirupati. Or else, you can pay per kilometer basis and visit various places according to your wish. Choose the best package which suits your requirements and enjoys your spiritual trip to Vellore Mahalakshmi temple.
We Tirupati Trip arrange a taxi service or cab service from Tirupati to Vellore Golden temple and below are travel packages from different pick-up points.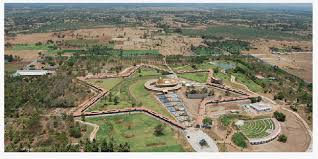 Importance Of Vellore
Vellore is known for its famous Golden temple also called Sripuram golden temple, which happens to be an abode of Sri Mahalakshmi. Vellore is around 134 km far from Tirupati and located Tamil Nadu. The temple, which was constructed in 2007, is called the golden temple because its exterior is covered with golden plates. The temple is located near a small and green hill, located in 100-acre land.
The temple opens at 4 am and closes at 8 pm. The temple does not have a strict dress code, but wearing shorts, lungis and Bermudas are not allowed. Photography inside the temple is strictly prohibited.
How to Reach Golden temple:
49 km away from Chittoor.
The distance from Tirupati is 134 km away.
Train at Kattpadi railway station and reach Sripuram.
145 km from Chennai airport This field is away.
Travelers traveling to Tirumala Yatra can also visit Sripuram along with Kanipakam and Srinivasa Mangapuram.
Tirupati to Vellore Golden Temple
The distance from Tirupati to Vellore golden temple comes around 130 km and the round trip from Vellore to Tirupati distance is around 280 km which includes traveler food travel distance and pickup points distance. Our taxi drivers will pick you from any pick-up points like railway station, bus stand, hotel or your doorstep.
Golden Temple near Tirupati
Many pilgrims on their spiritual trip to Tirumala Sri Balaji also wants to visit Sri Mahalakshmi temple also known as the golden temple in Sripuram. But they will belive that the golden temple is near Tirupati. But it's not true. It's 130 km away from Tirupati and located in Tamilnadu state and it takes 6 hours of travel time by taxi. But we arrange a taxi from Tirupati to Sripuram to fullfill your idea of visiting Sri Balaji and Vellore golden temple.
Taxi fare from Tirupati to Golden temple
Vehicle Type
Seating Capacity
Price
Sedan (Etios/ Dzire)
4 + 1
3550
Minivan (Innova)
7 + 1
5150
Minibus (Traveller)
13 + 1
7300
Taxi fare from Tirupati Balaji to Vellore Golden temple
Vehicle Type
Seating Capacity
Price
Sedan (Etios/ Dzire)
4 + 1
4210
Minivan (Innova)
7 + 1
5990
Minibus (Traveller)
13 + 1
8380
Taxi fare from Tirupati Airport to Vellore Golden temple
Vehicle Type
Seating Capacity
Price
Sedan (Etios/ Dzire)
4 + 1
4210
Minivan (Innova)
7 + 1
5990
Minibus (Traveller)
13 + 1
8380